Reflexology, a therapeutic practice rooted in ancient civilizations, has stood the test of time as a powerful method of healing and relaxation. Often referred to as a "foot massage with a purpose," reflexology involves applying pressure to specific points on the feet, hands, or ears, which correspond to various organs and systems in the body. In this blog, we'll delve into the rich history of reflexology and explore its numerous benefits in promoting physical, mental, and emotional well-being.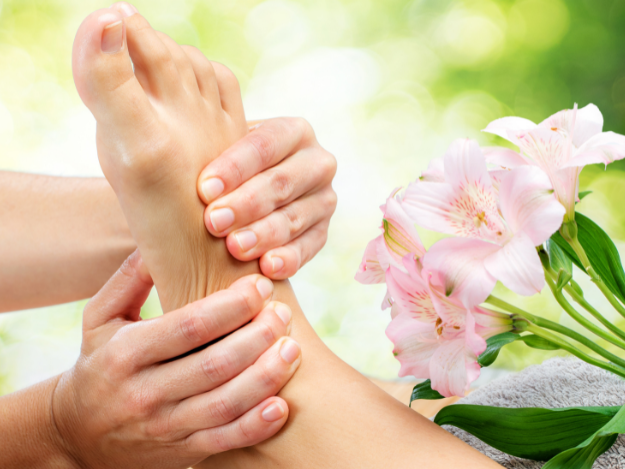 The Historical Footprints of Reflexology
The origins of reflexology can be traced back thousands of years to ancient civilizations around the world. Evidence of foot and hand therapy practices has been found in cultures such as ancient Egypt, China, India, and Native American tribes. Hieroglyphics on the tomb of an Egyptian physician depict scenes of foot massage, highlighting its importance in ancient healing rituals. Similarly, Traditional Chinese Medicine (TCM) and Ayurveda have long recognized the connection between specific points on the feet and the body's internal organs.
In the early 20th century, Dr. William H. Fitzgerald, an American ear, nose, and throat specialist, introduced the concept of "zone therapy." His work laid the foundation for modern reflexology by mapping the body into ten vertical zones, each with corresponding reflex points on the feet and hands. Eunice Ingham, a nurse and physiotherapist, further developed the practice, creating the reflexology maps and techniques used today.
The Healing Touch: Benefits of Reflexology
Stress Relief and Relaxation: Reflexology promotes deep relaxation by stimulating the nervous system and encouraging the release of tension. The gentle pressure applied to reflex points induces a state of calm, reduces anxiety, and improves sleep quality.
Pain Management: Reflexology is often sought for its pain-relieving effects. By targeting specific reflex points, practitioners can help alleviate discomfort associated with headaches, migraines, back pain, and menstrual cramps.
Enhanced Circulation: The application of pressure to reflex points increases blood flow and encourages the removal of waste products from the body. Improved circulation contributes to better oxygenation of tissues and the efficient distribution of nutrients.
Balancing Body Systems: Reflexology aims to restore balance and harmony within the body by addressing energy blockages and promoting the smooth flow of Qi or life force. This holistic approach is believed to support the body's natural healing mechanisms.
Detoxification: Reflexology encourages the body's detoxification processes by stimulating the lymphatic system and promoting the elimination of toxins. This can lead to improved immune function and overall well-being.
Digestive Health: Reflexology can have a positive impact on digestion by targeting reflex points associated with the digestive organs. It may help alleviate symptoms of indigestion, bloating, and constipation.
Stress Management: Reflexology's ability to help reduce stress and promote relaxation contributes to improved mental well-being. It can help individuals cope with the demands of modern life and reduce the negative effects of chronic stress.
Reflexology, an ancient practice with a rich history, continues to offer a holistic approach to healing and relaxation in the modern world. By stimulating specific reflex points on the feet, hands, or ears, reflexology practitioners aim to enhance circulation, reduce pain, balance body systems, and promote overall well-being. Whether you're seeking stress relief, pain management, or simply a moment of relaxation, reflexology invites you to step into a world of ancient wisdom and modern benefits.
Book in with Anne-Marie, our trained reflexologist, to experience the healing touch of this time-honoured practice and embark on a journey toward better health and vitality: