By Anne Marie Allen Reflexologist, Reiki Practitioner & Massage Therapist
I'm really excited to announce a new treatment coming in April 2019!
It doesn't matter where you go or what you do – your mind and your thoughts always go with you. As a person who's suffered from otherthinking and anxiety in the past, I know how miserable and debilitating it can be.
Sometimes you just wish there was an off switch – this treatment is it!
It has been designed for people who suffer from anxiety and overthinking, to help you take control, let go, switch off, calm your thoughts and help you overcome your anxiety.
This new treatment is called – the Anxiety Combo, as it combines wonderful reflexology with the magical powers of aromatherapy and reiki.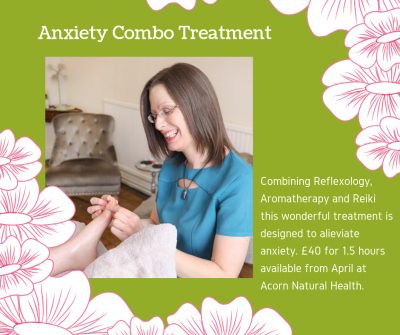 During your hour and a half appointment, you'll recieve a full reflexology treatment using especially selected aromatherapy oils. Whilst you drift your session will be rounded off with some deeply relaxing yet incredibly powerful reiki.
This new treatment is £40 for 1.5 hours. More booking details to follow shortly.