By Sally-Anne Marler Creative Awakening Coach, Intuitive & Energy Healer
We all have the ability to tap into a part of ourselves that is wise, supportive, knowledgeable, loving, creative, expansive, all knowing and in tune with our higher good and life purpose. The problem is, we don't develop this connection and end up rationalising, assuming, second guessing, doing what is expected and taking action based on what we think we should do. As Einstein so rightly points out, we're forgetting the beautiful gift that lives inside each of us.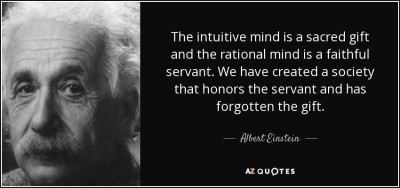 I've spent a long time, working on and developing the connection to my inner guidance and wanted to share a few things that I've discovered in doing this.
1. Your inner guidance can show up in many guises. It can be presented to you as a 'hunch' or gut feeling. This is probably the most common form and widely experienced sensation. We've all had this feeling at one time in our lives – maybe there's many times that you can think of but we fail to trust this source and shrug it off, only to find out later we should have gone with our gut!
2. It's a whisper – not a loud voice in your head. It's gentle, loving and kind. How many times do you have thoughts that feel quite harsh and self-critical? This is the ego, trying it's best to keep you safe based on your past experiences by ANY MEANS NECESSARY. Your ego isn't as you might assume – it's true nature isn't based on negativity. It's what we develop as part of our personalities, as part of our survival kit growing up, our behaviours, defences, coping strategies – all of that is ego. It's connected to survival and doesn't care about how you survive, often leaving you feeling frustrated, restricted, untrusting and without much faith or hope. When you start to quieten your mind, however you might do this – with music or meditation or practicing mindfulness – listen out for the quiet whisper and ignore the loud thoughts telling you the latest you can't, you mustn't – don't try or trust…etc, etc.
3. It's connected to something bigger. We hear more and more about working with the universe and the universal laws that are always at play. The law of attraction is a common one that suggests like attracts like for example. People talk about guardian angels and spirit guides, the divine, then there are Gods. Different ones for different religions that support people's beliefs in something bigger or a 'higher source'. The point is that we are part of something bigger – regardless of our beliefs or lack of them. Once we learn how to tap into this 'higher source' which we can do through our 'higher self' a lot of light bulbs start flashing – well they did for me! It's like being given a bird's eye view over your whole life and the ability to objectively review it to make the necessary changes you want and need to move forwards with confidence and meaning. Don't get me wrong, it's not an easy process and you can't 'short cut' what you need to face, heal or learn once you embark on this inner journey but I can guarantee you, it's worth it!
There are many ways to develop your inner guidance and work with it. I developed mine through creativity and expression, metaphor, using oracle cards, meditation, creative visualisation, reflective practice, recognising syncronicities, numerology, astrology, dream interpretations and so on. I'm running a beginners guide workshop to help others connect to their inner guidance system as I feel we need to start honouring the gift not the servant and everyone should have the ability and confidence to tap into their inner guidance to help and support them along the way. If you'd like to book your place please book here to do so – this is running at an early-brid offer of £32 if you book before 7th July. I also offer 1:1 coaching if you're interested in embarking on an inner journey – my coaching program is called Brilliantly Shine and start from £55 for an introductory session & welcome gift. Perfect if you feel you're an empath, struggling to connect to meaning or purpose, have regular feelings of sadness, anxiety or depression or just wanting to learn more about yourself, increase confidence and self-awareness.