By Anne Marie Allen Reflexologist, Reiki Practitioner & Massage Therapist

The base chakra also known as the root chakra or Muladhara Chakra is the first chakra and is located at the base of the spine. The base chakra is your foundation – without a balanced base chakra you won't have the security, stability or rootedness which is needed for true, lasting change.
It is linked to the basic survival needs such as security, survival, warmth, food and safety and the colour of the base chakra is red.
Whether you feel secure and safe now often isn't the cause of the imbalance, situations from the past even as far back as childhood can be the cause of the imbalance.
Imbalance in the root chakra can show itself as:
Restless, frightened, insecurities, greed, resentfulness, envious, criticism, pushing your body too far, not resting when you need to, gossiping, putting self or others down, negativity, procrastination, problems letting go e.g. fear, mistrust, anxiety, fears, nightmares, constipation, eating disorders, grounding to the earth, living in survival mode all the time, feeling like you can't get enough. You may also experience problems with food for example overeating or starving, money problems, sex, and hoarding material things.
The root chakra is associated with your:
Colon, bladder lower back, legs, feet, knees, sciatica, prostate, gonads, ovaries, testes and sacrum.
How to balance and heal the base chakra:
There are several ways to balance the base chakra, here a few suggestions you can try but for more information or to book in for a Reiki session to assist you with this please get in touch!
– Yoga
– Meditation
– Sounds
– Colours
– Crystals
– Affirmations
– Essential oils
– Reiki
– Reflexology
– Diet
– Exercise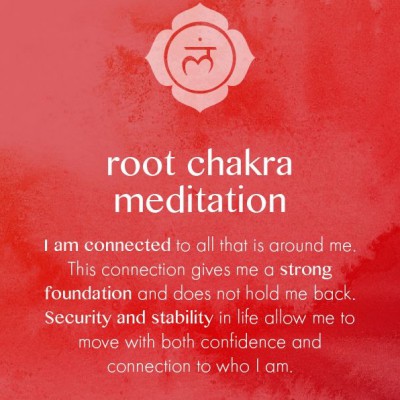 Special offer – a free Red Jasper Crystal with your Reiki Treatment!
Over the next four weeks I'll be posting lots of affirmations, tips and blogs to help you balance your base chakra as well as posting some questions that you can think about to help you unearth any blockages and go really deep to find out which beliefs and past experiences are stopping you from moving forward. As from April – when you book in for a Reiki Teatment each person will recieve an organza bag with a Red Jasper Crystal to take away with them and keep absolutely free to help them work with their base chakra balancing! (This only applies to one treatment and expires at the end of April). There will also be weekly competitions to win a free treatment so make sure you don't forget to like and follow us to ensure you don't miss a thing.