By Anne Marie Allen Reflexologist & Massage Therapist
Reflexology is based on the principle that the hands and feet have reflex points on them which mirror and link the whole body including the organs inside us.
An example of this is the Brain reflex sitting at the very tip of the big toe and the shoulder reflex just below the little toe!! Applying pressure to the reflex areas can help heal and balance the whole body.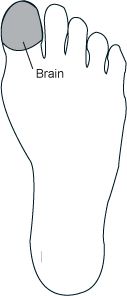 So how can Reflexology help with Raynaud's Disease?
As the whole body is mapped out on the feet and hands there are many ways in which reflexology can help:
1. Improves circulation
2. Balances and strengthens the heart and cardiovascular system
3. Reduces stress
4. Balances the endocrine, nervous and respiratory system
5. Promotes the body's natural healing process
6. Can help to address, support and heal any underlying conditions that may be contributing or causing the Raynaud's disease
7. Helps to relieve pain
8. Helps to rid the body of toxins
If you'd like to book an appointment or find out more please call me, Anne Marie on 01773 687349. Natural Touch Therapies is based at Acorn Natural Health Centre, 17a Market Place, Heanor, Derby DE75 7AA.