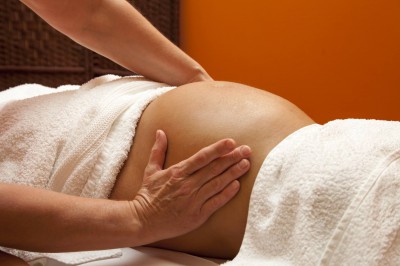 By Rebecca Sheldon – Specialist pregnancy massage therapist
Let's face it, during pregnancy the majority of women will suffer with some kind of back or pelvic pain. There are lots of little things you can do to ease this discomfort, I hope the following will help you get more comfortable enabling you to enjoy your pregnancy a bit more.
*Use a pregnancy wedge or pillow to help you sleep. There are a selection of cushions & supports available for use during pregnancy. Personally I found a pregnancy wedge & cushion between my legs helped me get more comfortable in bed but lots of mums swear by the pregnancy pillows. The idea of these is to support bump and keep your pelvis in a more neutral position.
*Think about how you move & the tasks you are doing, simply changing the way you get out the car can make a massive difference to pelvis pain (always keep your knees together).
*Try pregnancy yoga, there are regular weekly classes run locally. These focus on relaxation & gentle stretching but also being among other 'mums to be' can bring another wealth of knowledge about coping with back & pelvic pain (among other stuff)!
*Get the exercise ball out, these are super comfy for sitting on whilst pregnant & encourage good posture.
*Book a pregnancy massage, great for soothing those aching muscles & relaxing you. Make sure you choose someone who has done an additional pregnancy massage qualification & is insured for pregnancy massage.
*Seek help – let your midwife or GP know that you are suffering with back / pelvic pain; they can refer you to an obstetric physio if they feel it is necessary. They may also be able to discuss different birthing positions that are more suited to those with pelvic pain.
Most importantly don't be afraid to ask for help from friends or family with tasks that cause you discomfort, pregnancy is hard work & people will be more than willing to help you out.
acornnaturalhealth.co.uk